Malay culture
At the national level, Malays are the 8th or 9th largest ethnic group in Indonesia, making up 2.5% of the Indonesian population.
The majority of the residents (about 78%)[2] in the Riau Islands, including the more recent Javanese and Minangkabau immigrants, are Muslim. Specifically, Sunni Islam is the predominant sect in the Riau Islands, and in the rest of Indonesia, with the population and kings having historically been converted in the 14th century by Arab and Tamil traders.
Eid-ul-Fitr (also known as Lebaran, Idul Fitri, or in Singapore and Malaysia, as Hari Raya Puasa) is the most significant holiday in the Riau Islands and marks the end of the fasting month of Ramadhan (also spelt Ramadan).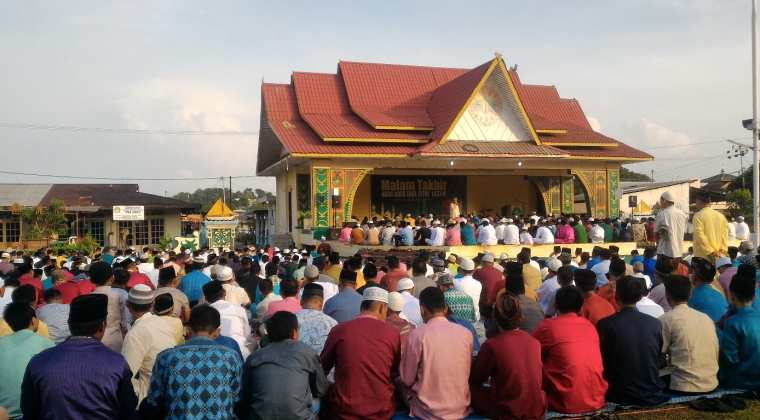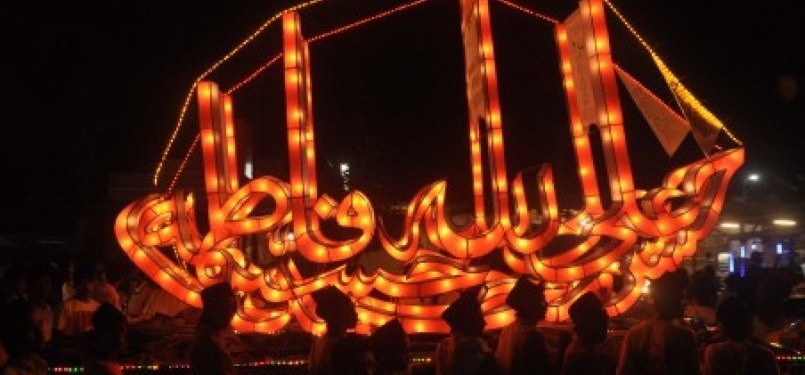 Today, much of Malay culture is shaped from, delimited by and used to reinforce Muslim mores and values, which emphasises modesty and piety. However, some rituals in in Malay cultural performance hint towards a syncretism of ancient pre-Islamic practices — evidenced in main puteri performances and shamanistic healing rites.
One of the most authoritative books on Malay history, the Sejarah Melayu, for example, charts the genealogy of the first Hindu Malay king from Palembang, to his descendants' eventual conversion to Islam in Malacca. Other localities important to Malay culture include the former capitals Penyengat island and Lingga Island.
Cuisine
Riau Malay cuisine is similar to wider Malay-style cuisine, heavily featuring curries of beef, chicken and fish often served with rice. It also uses accents of belacan shrimp paste and coconut milk.
A local shellfish called the gonggong is a regional delicacy; it is boiled and eaten with a belacan sauce, or simply on its own.
Lendot (also known as  Sempolet) is another Riau Malay specialty found in both Riau Islands and Riau mainland.[4] It is a spicy vegetable soup made from kangkung, ferns and shrimp, thickened with sago.
A local dessert, es laksamana mengamuk (literally, iced Admiral's Tantrum) is a cold drink made from kuini mangoes, coconut milk and palm sugar.
Malay kuih (also spelt "kue" or "kueh") are bite-sized dessert confections which are also a local staple. Regional specialties include bingka bakar (a coconut-and-egg confection shaped as a flower), batang buruk (sugar-dusted, green bean paste wraps), lempok durian (palm sugar and coconut milk toffee flavoured with durian), billis gulung (deep fried anchovy spiral fish fingers), and deram deram (rice flour donut).
Traditional dress
For Malay men, the traditional dress is the Baju Kurung Cekak Musang (a loose, long-sleeved shirt with a raised stiff collar) and the tanjak headdress (also called a 'tengkolok', a cloth headband with ornamental folds). It is formally complemented with a samping (a formal version of the sarong, a skirt-type clothing made from embroidered cloth ending at knee level) and a pair of trousers matching the shirt. A samping can be replaced with a sarong (a waist wrap made from cotton) for informal occasions or home use.
A white peci or kopiah (a rounded skullcap) may also be worn to indicate Muslim piety. What is known as a songkok in Malaysia and Singapore, a black fez-like cap, is associated with the national secular movement but is derived from Malay culture and is also worn by Malay men at formal events.
Malay women also wear the Baju Kurung Cekak Musang, albeit with a slightly longer hem and paired with a matching straight cut, ankle-length skirt. Alternatively, a woman can also wear Kebaya Laboh (a loose buttoned-up dress-blouse), and a tudung (headscarf), for Muslim modesty; in Lingga Island, the tudung may be worn more loosely and is usually colourful.[6] When not wearing the headscarf, women may bun up their hair in the traditional sanggul jonget style.[7]
Traditional performances
There are quite a number of Malay cultural practices that are unique to the Riau Islands. T Luckman Sinar, classified Malays dances into four categories: magic-religious, war dances, show dances, and duelling 'ronggeng' dances. The most prominent in the Riau islands are:
Zapin:

Tarian Zapin is a Arab-derived dance with variants based on affiliation to specific historical sultanates and with Islamic elements. Originally performers were exclusively male, but modern troupes may also be female or a mixed group. Zapin performers dance facing each other while repeating dance motifs, tracing a recurring forward and backward plan, interrupted by a series of skips and squats known as the kopak.[8]
Melemang:

Tarian Melemang was originally a court dance presented as entertainment to pre-Islamic kings of Bintan, but now usually performed only at weddings or festivals. Malemang refers to the act of 'bending backwards while standing', and dancers blends the act into the dance to pick props off the ground.[9]
Tari makan sirih:

Tari makan sirih ( betel leaf eating-dance) is recently invented dance form as it was standardised in 1957. It is performed not only to welcome visitors but to also showcase Malay identity and culture. It is performed by mixed gender pairs to upbeat Malay music.[10]
Tari Tandak:

Tari Tandak, which is a social and community dance where men and women dance in a circle and exchange poetry verses in the form of traditional pantun.[11]
Joget:

Traditional joget dance is also practised purely for entertainment purposes, and does not have any ritualistic or religious element to it.[12]
There are also traditional forms of theatre:
Mak Yong:

Mak Yong theatre is a highly ritualised dance-drama adapting Kelantan-Pattani folklore, often following the adventures of kings and princes. Notably, Mak Yong in the Riau Islands use masks unlike the practices in Kelantan, Malaysia. Main puteri (trans. playing with princesses), is form of Mak Yong that is performed as a traditional healing ritual. Traditionally, Mak Yong performers are all women, except role of for the clowns, who are all male.
Wayang Bangsawan (Aristocratic Theatre) is also performed here. It recreates scenes and legends from Malay history surrounding the nobility, with elements of comedy, drama, music, song and dance in a relatively modern format on a stage.
 A Batamese troupe perform Sultan Mahmud Mangkat Dijulang, which tells the political intrigue against a successful Malaccan admiral, and how he came to betray his sultan.
Teater Mendu is another theatre format associated with Midai and Ranai in the Natuna Islands which spread from Penang in the 19th century. While it shares similarities with Mak Yong and Bangsawan and Mendu practitioners in West Kalimantan, theater Mendu performed here typically tells the legends of Mendu deities, who speak in the Mendu language while commoners speak Malay.[13]  
In terms of music,
Berdah music is usually played in troupe of seven to fifteen rebana (goatskin jingle-less tambourines) players with Islamic chanting, and is centred in Karimun. [14]
Traditional sports and games
Sea sports: Jong racing
One past-time for folks living along the coast is building and racing unmanned, miniature wind-powered sailboats called jongs. These sailboats are about a metre long and 1.5m high, usually two-sailed, and have stabilising outriggers. Races are usually held just prior to the monsoon season to take advantage of the swelling winds and waves.[16]

Sea sports: Kolek racing
Koleks are traditional sailboats comprising a canoe (measuring anywhere between 3m to 7m in length) rigged with a sail. They are usually manned with crews ranging from 3 to 12 men. The race typically starts from shore and lasts for six nautical miles.
Sea sports: Dragonboat racing
Dragonboat racing arrived in Riau Islands with Chinese migration in the 1700s and is an internationally sanctioned sport. The main race in the Riau Islands is held annually in Tanjungpinang during Duanwu festival in June. As a team paddling sport, a standard dragon boat is powered by 20 human paddlers for a race between 200 to 2000m.
 Silat
Silat, a group of closely-related martial art styles associated with the Nusantara also finds its home in the Riau islands. There are three main styles of Silat: formal competitive sport, artistic performance and combat|
Within each style there are sub-categories as well. For example, in Lingga Island, silat can be performed as silat penghormatan (respect or veneration silat), or silat pengatin (bridal silat) when performed during weddings.[17] In Kampung Bugis in Bintan, another guru teaches silat lima (the silat of five) which recalls an episode from Hikayat Hang Tuah (the Legend of Hang Tuah) where Hang Tuah and his four warrior comrades fend off twenty other combatants.[18]
The Ikatan Pencak Silat Indonesia (IPSI) Provinsi Kepulauan Riau is the local branch of the national governing body for competitive silat. IPSI has branches on each major island, and coordinates regional and national competitions.
Top spinning
Top spinning, known locally as gasing, is a simple local game played throughout the entire Malay world, with regional variations. Usually made from local wood, spinners scoop the tops to place it on platforms, or duel each other by knocking existing tops out from an arena. A revival in the past-time may be taking place, centred around Belakang Padang village just off Batam.[19]
Kite flying
Traditional Malay kites, known as wau, used to be a popular traditional past-time but today struggle to retain popularity. One type of wau competition, called benang gelasan, involves gluing ground glass onto the kite strings to attack a competitor's kite by cutting his or her kite string.
To revive the sport, the local government and some local associations such as Persatuan Layangan Bintan and Ikatan Tamadun Melayu (ITAM) have been holding several kite flying competition and festivals in past years.[20]
Aside from traditional sports, endurance sports and adventure racing has taken off in the Riau Islands. Events such as the Bintan Triathlon, Bintan 70.3, Tour de Bintan, Tour de Barelang, Batam Colour Marathon and the Wonderful Indonesia Nongsa Regatta 2017 are popular events held annually in the Riau Islands.
Festivals
The most well-supported festival in the Riau Islands is Festival Bahari Kepri (Kepri Maritime Festival), usually held in October just prior to the monsoon season. First held in 2016, the festival celebrates the Riau Islands' maritime and Malay heritage and includes dragon boat races, jong races, carnivals and a river boat parade.
Each major island in the Riau Islands also celebrates Indonesian Independence Day on 17 August each year, usually with a parade (pawai kemerdekaan) or a carnival, and district governments may also hold their own events. In 2013, the Batam government celebrated not only with a parade, but also with a 'sacred reflection' at Taman Makam Pahlawan (Tomb of Heroes park).[21]
There are some notable folk festivals.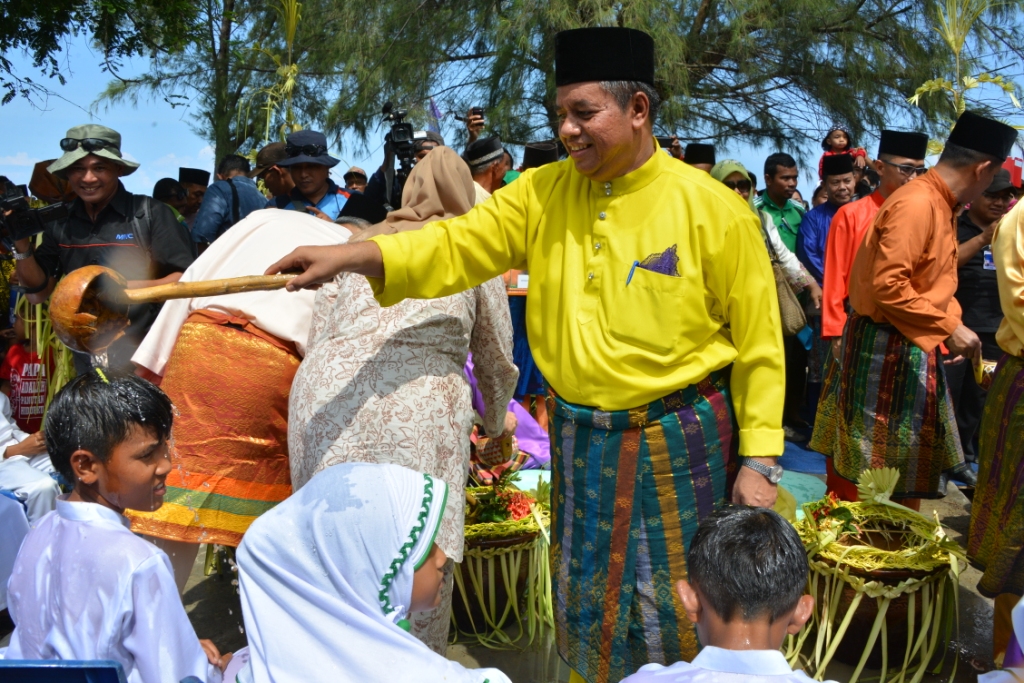 Mandi Safar is a public cleansing ritual performed by Malays to ward off bad luck and for religious introspection, and is an opportunity for families to picnic together and play in rivers and waterfalls.[22] It was established by Sultan Abdul Rahman Muazzam Shah II, the last sultan of Riau-Lingga and is conducted on the 4th Wednesday of the Islamic month of Safar in Lingga Island at various natural spots such as Pasir Panjang beach, Resun waterfalls, and the Lubuk Papan bathing spots.[23] In 2017, Mandi Safar will be celebrated in early November.
Because the Islamic calendar about 10 days shorter than the Gregorian calendar, Mandi Safar is celebrated earlier from one year to the next.
Finally, Barongsai dan Lampu Lampion (元宵节) (Feb-March). Held where Chinese communities are present such as Nagoya in Batam, and Tanjungpinang in Bintan , it is the Chinese Spring Lantern Festival held after Chinese New year. It is sometimes also known as the Chinese equivalent of Valentines' Day. Children parade with lanterns (lampu lampion) in the streets, with lion dances (barongsai) performances on the side.
[1] Malays are 9th largest if the various Sulawesi ethnic groups count as a single ethnicity, in which it takes 4th place.
[2] 2015 Kepri statistics pp124-215.
[3] http://www.channelnewsasia.com/news/singapore/batam-based-radio-hang-says-it-strongly-rejects-radical-ideologi-7859618 and http://www.todayonline.com/singapore/radio-0
[4] http://disbud.kepriprov.go.id/lendot-atau-sempolet/
[5] The legend is the name comes from an admiral whose wife absconded with another man. In a fit of rage, he swung his sword in a kuini mango orchard, cutting up many mangos. Not wanting to waste the fallen mangoes, she combined them with coconut milk and palm sugar, which the villagers found refreshing. http://disbud.kepriprov.go.id/es-laksamana-mengamuk/
[6] http://batam.persada.top/2016/04/21/antara-tudung-manto-kelingkan-dan-keringkam-kekayaan-perempuan-melayu/
[7] http://melayuonline.com/ind/culture/dig/2663 ; http://www.tradisikita.my.id/2016/11/4-baju-adat-riau.html
[8] The Spiritual Essence of Tawhid in Zapin Dance Performance in the Beholders of the Tariqat Naqsabandiah in Southeast Asia, Mohd Anis Md Nor, JATI vol 14, December 2009.
[9] Tari Melemang (Kepulauan Riau), http://uun-halimah.blogspot.my/2008/03/tari-melamang-kepulauan-riau.html
[10] Tari Makan Sirih: Tari Tradisional Melayu untuk Menyambut Tamu,  http://m.melayuonline.com/ind/literature/dig/2756/tari-makan-sirih-tari-tradisional-melayu-untuk-menyambut-tamu
[11] http://disbud.kepriprov.go.id/tari-tandak/
[12] http://disbud.kepriprov.go.id/joget-dangkong/
[13] http://uun-halimah.blogspot.my/2008/02/mendu-kepulauan-riau.html; http://www.pontianakpost.co.id/mendu-seni-teater-khas-melayu-mempawah-yang-terlupakan
[14] http://disbud.kepriprov.go.id/berdah-cempaka-putih/, also see https://www.youtube.com/watch?v=uBWZWTT8XIw
[15] http://melayuonline.com/ind/culture/dig/2667/ghazal-musik-tradisional-masyarakat-melayu-kepulauan-riau; https://www.otonomi.co.id/ragam/ghazal-kesenian-musik-orkestra-melayu-di-kepulauan-riau-1702241.html
[16] http://batamtoday.com/arsip-86612-Jong-Race-2017-Kampung-Melayu-Dimeriahkan-1.800-Peserta.html
[17] Margaret Kartomi, 'Hang Tuah and the Distinctive Art of Self-Defence Culture in the Lingga Regency of Indonesia's Riau Islands', in The Fighting Art of Pencak Silat and its Music: From Southeast Asian Village to Global Movement, eds. Uwe U. Paetzold & Paul H. Mason, Netherlands: Brill NV, 2016. pp 182-204.
[18] Margaret Kartomi, 'Silat Lima: Heritage of the Malay cultural Hero, Hang Tuah', RIMA: Review of Indonesian and Malaysian Affairs, Vol. 47, No. 1, 2013, p. 1 – 33. Also see http://sijorikepri.com/psht-tanjungpinang-salah-satu-perguruan-silat-terbesar-dunia/
[19] http://kepridays.com/permainan-gasing-hampir-punah/
[20] 2011 in Lagoi, http://www.antarakepri.com/berita/19216/pantai-lagoi-semarak-layang-layang-internasional; 2014 in Tanjungpinang, http://batam.batamtoday.com/berita46200-Festival-Layang-layang-di-Tanjungpinang-Digelar-30-31-Agustus.html; 2016 in tanjungpinang http://wartakepri.co.id/2016/10/30/peserta-lomba-layang-layang-festival-bahari-adu-kreasi-dan-ketangkasan/
[21] http://batamtoday.com/berita32037-Perayaan-HUT-RI-di-Batam,-dari-Pawai-Kemerdekaan-Hingga-Renungan-Suci-di-Makam-Pahlawan.html
[22] http://pantauriau.com/news/detail/3881/memaknai-mandi-safar
[23] http://lingga.batamtoday.com/berita82055-Mandi-Safar,-Tradisi-Religi-Khas-Lingga.html